News in the Steel Industry:
Trump must act urgently to save the US steel industry — National security begins with primary steelmaking
American industry has always been a primary source of strength and jobs in our nation. But today, a great industry that has played a vital role in building and defending the United States – the steel industry – is in crisis.
 Surging steel imports, largely subsidized by foreign governments, have hammered prices, forced some steel mills to close, and cost thousands of steelworkers their jobs. Since 2000, more than 60,000 steelworkers have seen their jobs disappear, including 14,000 in 2015 and 2016 alone.
Unfortunately, the import surge continues to grow. Through the first eight months of this year, steel imports have increased by 21 percent compared to the same period last year. And in June, imports of finished steel matched the record level of 30 percent
Foreign steel producers continue to find every way possible to circumvent trade laws and dump products in our market.
As a result, the U.S. steel industry is making less steel. Output is approximately 22 million tons lower than it was before the recession. While steel mills ideally should be running at above 85 percent of their capacity to maintain economic sustainability, capacity utilization rates since 2009 have been unsustainably low, fluctuating between approximately 70 and 75 percent.
But there is a solution to this crisis. In April, President Trump recognized both the importance of steel to U.S. national security and the crisis facing the industry. He announced that his administration would begin an investigation pursuant to Section 232 of the Trade Expansion Act of 1962. The law authorizes the secretary of Commerce to conduct investigations to determine what effects imports of any product have on U.S. national security.
 Launching the investigation was an important signal that the Trump administration would not tolerate further erosion of the steel industry.
Unfortunately, the steel crisis has only deteriorated further since the investigation was announced. Given the expectations of swift, decisive action, steel imports have flooded the market to avoid the anticipated response. This has siphoned badly needed sales from domestic manufacturers and hurt American workers.
Despite the urgent need for action, reports now are that a decision on trade violations will be delayed until after Congress deals with tax reform.
The U.S. steel industry cannot afford to wait. This is President Trump's decision; and congressional stalemate should not keep him from doing what's best for U.S. national defense, economic security and tens of thousands of American steel workers. With each delay, the communities and workers that rely on paychecks, taxes and economic activity created by the steel industry suffer.
Steel is used to build the ships, armored vehicles and weapons that keep our troops safe. It is used to build the roads, bridges, railways and airports that keep our economy running. And the steel industry provides jobs that support steelworkers and their families.
In a time of national crisis, the U.S. cannot afford to rely on foreign steel suppliers like China or Russia. National security begins with primary steelmaking. We need the president to act now.
Soon after our nation's entry into World War II, President Franklin Delano Roosevelt told Congress: "Powerful enemies must be out-fought and out-produced." His words are as true today as they were then.
To ensure a strong and prosperous America, we must be able to produce the steel that supports our military, our infrastructure and our communities across the country. Our national security and economic strength comes from making, building, and innovating right here in the United States. This is only possible with a healthy steel industry.
Source: Foxnews.com
See the full article here:http://www.foxnews.com/opinion/2017/11/03/trump-must-act-urgently-to-save-us-steel-industry-national-security-begins-with-primary-steelmaking.html
Local steel production jumps by 15,000 tons
Friday, Dec 08, 2017
Great Lakes steel production shot up to 631,000 tons last week, an increase of 2.43 percent and the second straight weekly gain.
Steel mills in the Great Lakes region made 616,000 tons of metal the previous week, according to the American Iron and Steel Institute. Most of the steel made in the Great Lakes region is produced in Lake and Porter counties in Northwest Indiana.
So far this year, U.S. steelmakers have produced 83.3 million tons of steel, about 4.3 percent more than they did during the same period in 2016. Domestic steel mills have been running at a capacity of 74.5 percent so far this year, up from 70.8 percent through the same time last year.
Domestic steelmakers used about 73.8 percent of their steelmaking capacity in the week that ended Dec. 2, up from 73 percent the previous week but up significantly from 67.3 percent at the same time a year earlier, according to the American Iron and Steel Institute.
Some analysts say steelmaking capacity utilization of about 90 percent is considered financially healthy for the industry.
Overall, U.S. national steel output rose by 17,000 tons last week to 1.72 million tons, an increase of 0.99 percent, according to the American Iron and Steel Institute.
Production in the southern district, usually the second largest steelmaking region after the Great Lakes, dropped to 641,000 tons last week, down 1.53 percent from 651,000 tons a week earlier. Steel output in the Midwest swung back to 168,000 tons last week, up from 162,000 tons a week earlier.
U.S. slaps duties on Vietnamese steel originating from China
Wednesday, Dec 06, 2017
The U.S. Commerce Department on Tuesday slapped steep import duties on steel products from Vietnam that originated from Chinese-made steel.
The agency said the Vietnamese products were circumventing existing U.S. anti-dumping and anti-subsidy orders on the same products from China.
The Commerce Department said it would apply the same anti-dumping duties on corrosion-resistant steel from Vietnam using Chinese substrate of 199.43 percent and anti-subsidy duties of 39.05 percent.
U.S. anti-dumping duties on cold-rolled steel from Vietnam using Chinese steel substrate will be set at 265.79 percent, with anti-subsidy duties of 265.44 percent.
Steel Rally's So Powerful It's Now Back to Lehman-Crisis Levels
Steel's breath-taking rally just scaled a fresh peak, with prices hitting the highest since the world economy tanked almost a decade ago during the financial crisis ushered in by the collapse of Lehman Brothers Holdings Inc.
As China curbs supply this winter to cut pollution and ensure its citizens can breathe, the spot price of reinforcement bar advanced for a sixth straight day to 5,044 yuan ($763) a metric ton on Tuesday. That's the highest level since September 2008, the same month that Lehman filed for Chapter 11.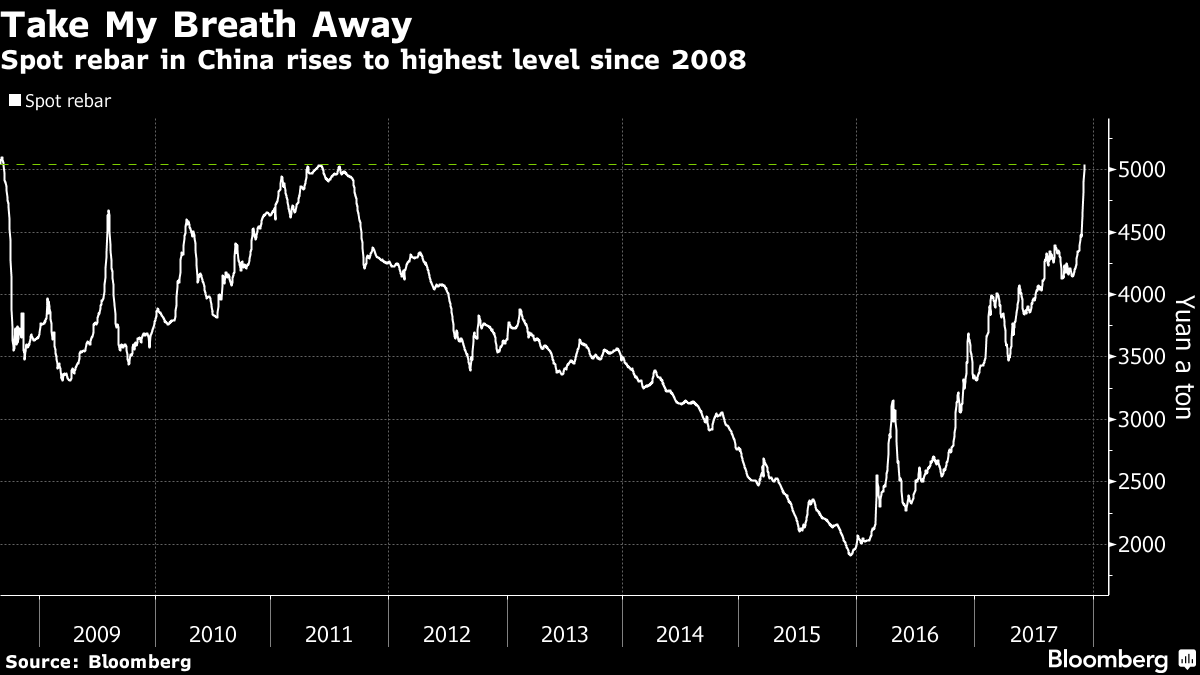 The policy maker-driven gains are boosting mills' margins, and simultaneously stoking demand for material with the highest iron ore content, especially 65 percent, which causes less pollution. Jay Hambro, chairman at miner IRC Ltd., told Bloomberg TV's Rishaad Salamat that that grade may soon hit $100 a ton.
The backdrop of surging steel prices and lower output in China is a boon for mills, both on the mainland, which makes half global supply, and beyond. ArcelorMittal has said the upswing "should be a multiyear phenomena."
Source: Bloomberg Reports
China steel, iron ore futures hit 3-mth highs as mills cut output
Monday, Dec 04, 2017
Chinese iron ore and steel futures surged to three-month highs on Monday as the government-ordered steel production cutbacks led to tighter supplies for some mill products.
The upwards push was led by a big spike in steel prices that follows the global top producer's orders to 28 cities to cut industrial production to battle smog and clean skies.
The most active rebar on the Shanghai Futures Exchange hit a high of 4,104 Yuan ($620.50) a ton, its highest since Sept. 6.
"The production cut has caused supply shortages of some rebar products, while demand has not been affected as much," said a futures analyst in Shanghai.
Iron ore on the Dalian Commodity Exchange followed, rising more than 6 percent to hit 555 yuan a tonne, the highest since Sept. 13.
Spot iron ore for delivery to China's Qingdao port .IO62-CNO=MB has also surged, gaining 2.9 percent to $70.11 a tonne last Friday, according to Metal Bulletin.
"Iron ore prices rose above $70 per tonne (CFR China) on demand hopes as stronger steel prices encouraged steel mills in China to boost output," Vivek Dhar, an analyst with Commonwealth Bank of Australia, said in a note.
Steel mills are expected to resume normal production from around mid-March, after the end of the ordered output cuts, about the time when steel demand seasonally picks up.
That's raising expectations that steel mills will restock iron ore early next year.
"Restocking demand also prompted prices (to move) higher with reports of low iron ore inventories at some steel mills in the provinces of Shandong and Hebei," Dhar said.
China's crude steel output is expected to rise 3 percent to 832 million tonnes this year, and by a further 0.7 percent in 2018, as major mills ramp up operations, offsetting impact from the shutdown of outdated plants, said the China Metallurgical Industry Planning and Research Institute.
Iron ore demand in the world's top buyer is expected to rise 1.3 percent to 1.122 billion tonnes this year and dip slightly to 1.12 billion tonnes next year, according to the MPI report.
On the Dalian Commodity Exchange, coking coal futures gained 1.8 percent to 1,417.5 yuan a tonne and coke futures rose 2.4 percent to 2,219 yuan a tonne.
Source: in.reuters.com
Commercial Metals Company Announces Second Investment In Spooled Rebar At Its Arizona Micro Mill
Thursday, Nov 30, 2017
Commercial Metals Company today announced that the company will invest in a second spooler to produce hot-rolled, spooled rebar at its micro mill in Mesa, Arizona. This investment is in addition to the January 2017 announcement of the first spooler in the United States, which will be located at the company's new micro mill in Durant, Oklahoma. The company expects to begin shipping spooled rebar from the Oklahoma mill in the spring of 2018 and from the Arizona mill about one year later.
"We are excited to expand our production capabilities of spooled rebar in the United States. The ability to produce and sell spooled rebar from both Oklahoma and Arizona will allow us to reach a broader geographic market. The micro mill technology lends itself well to spooled rebar production and allows us to offer spools from 1.5 to 4.8 tons. CMC remains committed to supporting and servicing the concrete reinforcing industry with new and innovative products," commented Tracy Porter, Executive Vice President, CMC Operations.
Falcon Steel America Acquires Manufacturing Facility in Conroe, Texas
Wednesday, Nov 29, 2017
Falcon Steel America (FSA), a leading designer, engineer and fabricator of American-made steel structures, announced today that it has acquired a 226,000-square foot manufacturing facility in Conroe, Texas.   The addition of the new plant, located at 3575 Pollok Drive and sited on 25 acres, will more than double the company's manufacturing capacity for high voltage steel-lattice towers and commercial galvanizing and dulling operations.
"We see robust growth opportunities on the horizon, and our expansion into Conroe allows us to significantly increase our production, and shrink turnaround time between fabrication and delivery for our customers," said chief executive officer Jim Taylor.  "Further, our new world-class facility establishes a strategic foothold for our company in the Greater Houston area. We look forward to being an active community partner in Conroe and Montgomery County and continuing to build upon our 'Buy American, Hire American' initiatives."
FSA anticipates hiring 150 local skilled and unskilled workers, including quality assurance and quality control inspectors, welders, fitters, machine operators and truck drivers in the near term.  Information about available positions and job fairs will be announced on the company website and on company social media channels in the coming weeks.
FSA builds and galvanizes steel monopoles and substations and is the only fabricator of high voltage steel-lattice towers in the United States, making it possible to quickly deliver critical structures to customers especially in times of disaster. The company believes in being environmentally responsible and uses 100% United States recycled steel.
At the new Conroe facility, the company will first establish its fabrication line, followed by its galvanizing line.  Within the first year of operations, FSA will expand production to monopoles.
BHP targets costs cuts; sees upside in copper, steel prices
Tuesday, Nov 28, 2017
Top global miner BHP Billiton Ltd said on Tuesday it will drive further cost cuts across its Australian business, and forecast strong price support from China for steelmaking raw materials.
BHP will target $1.6 billion in productivity gains at its Australia iron ore, copper and coal units over the next two years, Minerals Australia President Mike Henry told a briefing in Adelaide.
"By sharing knowledge and replicating best practice across our global portfolio, we've been able to substantially reduce unit costs at our Australian mining operations over the last five years. But we have further to go," he said.
In a bullish outlook, the company said prices for iron ore and metallurgical coal could rebound sharply before February as buyers look to replenish stocks.
"While steel production in China will fall in the short term due to the mandated winter cuts and this could impact short term demand for iron ore and met coal … record margins means competition for premium quality raw materials is high," Vice President of Marketing Vicky Binns told the investor call.
"There remains a risk that before February next year we could see a sharp recovery in steel prices and raw materials prices as well."
Binns said Beijing's focus on compliance with environmental regulations means that structural reform would continue to support premiums for high quality raw materials.
China's belt and road initiative will drive an extra 150 million tons of steel demand, driven by $1.3 trillion of infrastructure development, she said.
In copper, the short-term outlook was supported by a shortage of concentrates, Binns said, after several disruptions at mines and the potential for work stoppages over wage agreements in Chile and Peru into 2018, as well as changes to China's scrap import regulations.
BHP forecast an additional 700,000 tons of copper in concentrate would be produced between now and 2020, while China would add 1.5 million tons of copper capacity by 2020, alongside capacity expansion in India.
"There just doesn't seem like enough copper concentrate to go around," she said.
China's blanket import ban on a type of assembled copper scrap from the end of 2018 could also lead to a "leakage" of around 100,000 tons of copper in 2018 and more than double that in 2019.
"China will be faced with a shortage for copper concentrates and a shortage of imported scrap, so it will need to provide for its growth in demand by importing more blister, anode and cathode and that is good for cathode premiums and for the copper price overall."
Further out, demand from electric vehicles and renewables was set to drive copper consumption, she said.
Launch of new galvanizing unit at MMK recognized as Event of the Year
Tuesday, Nov 21, 2017
Magnitogorsk Iron and Steel Works has won an award for the Main Event in the Russian Steel Industry 2017. This award was given to MMK in recognition of the construction project for the continuous hot-dip galvanizing unit No 3, which was implemented in July of this year.
The awards ceremony for the prize-winners took place in Moscow as part of the formal reception to open the leading exhibition of the steel industry, Metal-Expo 2017. Alexey Kuzmin, Head of Domestic Sales for PJSC MMK, was presented with a certificate and a trophy, sculpted into the shape of a steel worker.
The Continuous hot-dip galvanizing unit No 3 was built on the grounds of the sheet-rolling plant No 11. The unit is designed for producing products with a zinc coating, which is applied by hot-dip galvanizing on thin-sheet cold-rolled strips of low-carbon steel. A contract for the supply of equipment for the new unit was signed in July 2015 with the mechanical engineering firm SMS group (Germany). The new unit can produce 360,000 tons a year, for which it will use uncoated cold-rolled strip, produced in plant No 11. This project has been implemented in line with the PJSC Magnitogorsk Iron and Steel Works strategy to increase its production share of High Value Added advanced processing products.
The competition for the Main Event in the Russian Steel Industry was established in 2011 by the organizing committee of Metal-Expo, with the aim of supporting and promoting innovative projects in the metallurgic industry. Every year it celebrates the most important projects implemented with a total investment value of more than EUR 100 million. Magnitogorsk Iron and Steel Works won the competition in 2011 and 2012 for constructing and putting into operation two stages of a modern cold-rolling mill (mill 2000) in plant No 11.
Tokyo Steel to raise product prices in Dec by 3,000 yen/T
Monday, Nov 20, 2017
Tokyo Steel Manufacturing Co Ltd , Japan's top electric-arc furnace steelmaker, said on Monday it would raise its product prices in December by up to 4.8 percent due to tight market conditions at home and abroad.
The company will boost prices of all its products in December by 3,000 yen ($26.8) per ton, or by 3.2 percent to 4.8 percent. It held its product prices unchanged in November after raising them in the previous two months.
"Demand in Japan's local market has been strong on the back of a series of redevelopment projects in central Tokyo and construction projects related to the 2020 Tokyo Olympics," Tokyo Steel's Managing Director, Kiyoshi Imamura, told reporters.
"We have been also receiving many inquires from overseas customers as China continues to slash its export," he said, predicting that the healthy trend in steel market will continue through next year.
Prices for steel bars, including rebar, will increase by 3,000 yen, or 4.8 percent, to 65,000 yen ($580.4) a ton, while prices for U-shaped steel-sheet piles will rise by 3,000 yen, or 3.2 percent, to 96,000 yen a ton.
Tokyo Steel's pricing strategy is closely watched by Asian rivals such as South Korea's Posco and Hyundai Steel Co, as well as China's Baoshan Iron & Steel Co Ltd(Baosteel).
Europa Manufacturing, Inc. Announces Expansion
Friday, Nov 17, 2017
Europa Manufacturing, Inc., a wholly owned subsidiary of SenTech EAS Corporation, announces expansion with the addition of new state of the art equipment. Europa located in Boca Raton, Florida, is a premier supplier to OEM's of precision metal fabrication serving customers nationwide for over 35 years.
"Since our acquisition in June 2017, we have made significant investments in capital equipment, software, engineering and project management staff to further expand our manufacturing and customer support capability. The recent purchase of a new LVD Strippit, Lynx Fiber Laser allows us to expand our manufacturing capabilities and serve many other growing markets."
"This Laser, the size of a three car garage, is designed for high-speed production, handling two full sheets of metal up to 5'x10′. It's capable of cutting up to 1,000 inches per minute, making highly precise hairline cuts in all types of metals including steel, stainless steel, aluminum, titanium, copper and brass. These improvements are the beginning of planned upgrades to our equipment and staff that will further solidify our position as an industry leader assuring competitively priced, rapid production, and on-time deliveries of high quality products." said Richard Spagna, President & CEO.
"Since the acquisition, Europa's sales team has attended or exhibited at several industry events, receiving a high level of interest from existing and new prospective customers. Europa is actively working to expand it's own product offerings beyond OEM manufacturing and engineering design services. Our newest tradeshow booth and shipping crate were designed and manufactured in-house. They received so much interest from other exhibitors, that we are now considering manufacturing a line of customizable tradeshow booths and crates." said David Vanderpol, Director of National Accounts.
Our marketing team with decades of experience exhibiting at trade shows, inspired a modern booth design that minimizes set-up and breakdown time, significantly reduces expensive on-site labor cost and provides ease of packing and shipping. The setup and repacking time is less than 30 minutes each. The modular backlit design with multimedia capability allows for expansion to various sizes and formats.
Great Lakes steel output falls by 15,000 tons
Thursday, Nov 16, 2017
Great Lakes steel production fell to 627,000 tons last week, a 2.33 percent decrease, and the second straight week of decline.
Steel mills in the Great Lakes region made 642,000 tons of metal the previous week, according to the American Iron and Steel Institute. Most of the steel made in the Great Lakes region is produced in Lake and Porter counties in Northwest Indiana.
So far this year, U.S. steelmakers have produced 78.2 million tons of steel, about 4 percent more than they did during the same period in 2016. Domestic steel mills have been running at a capacity of 74.6 percent so far this year, up from 70.8 percent through the same time last year.
Domestic steelmakers used about 74.6 percent of their steelmaking capacity in the week that ended Nov. 11, up from 73.6 percent the previous week and up significantly from 67.1 percent at the same time a year earlier, according to the American Iron and Steel Institute.
Some analysts say steelmaking capacity utilization of about 90 percent is considered healthy.
Overall, U.S. national steel output rose by 24,000 tons last week to 1.739 million tons, an increase of 1.39 percent, according to the American Iron and Steel Institute.
EU finds Chinese steel sent via Vietnam evaded tariffs
Wednesday, Nov 15, 2017
The European Union's anti-fraud office (OLAF) said it has found Chinese steel was shipped through Vietnam to evade the bloc's tariffs.
Steelmakers are now awaiting a similar but more widespread U.S. circumvention investigation involving China and Vietnam.
Trade tensions between Beijing and Western nations continue to simmer, with the United States taking a tough line even though China, producer of half the world's steel, has cut excess capacity by a quarter and reined in its exports of the alloy.
OLAF told Reuters roughly 8.2 million euros ($9.6 million) of anti-dumping duties were evaded when organic coated steel from China was shipped through Vietnam and given Vietnamese certificates of origin.
The amount involved is small and the case was concluded at the end of 2016, but market participants say Vietnam remains a hub not for fraud, but for Chinese trade tariff circumvention involving large tonnages of steel.
Financial recommendations were sent to the customs authorities of Belgium, Greece, Slovenia, Italy, Poland, Portugal, Lithuania, Romania and Sweden for the recovery of roughly 8.2 million euros of antidumping and countervailing duties.
Western steelmakers are hoping the EU will launch a similar circumvention case to the one pending in the United States.
A European Commission source said there was no ongoing investigation into that matter, but authorities would not hesitate to initiate a probe if they were made aware of circumvention allegations.
"If the EU ultimately applied duties currently levied against Chinese steel to imports from Vietnam, it would help close another loophole for Asian steelmakers to access the euro market," Jefferies analyst Seth Rosenfeld said.
The United States is due to rule shortly on whether Chinese steelmakers subject to U.S. duties diverted their shipments to Vietnam for minor processing into cold-rolled and corrosion-resistant steel, before selling them on to the United States.
By some estimates, up to 90 percent of the value of the Vietnamese steel shipped to the United States was produced in China.
The United States is also investigating a similar case involving 1 million tons of Chinese aluminum shipped to Vietnam and then on to Mexico allegedly to evade U.S. duties. China produces half the world's aluminum.
"The OLAF case will definitely raise, if not confirm, suspicions for (the U.S.) Commerce (Department). Also it would not be a surprise if there is an EU complaint already filed on circumvention via Vietnam," said Laurent Ruessmann, a partner at lawyers Field Fisher.
European steel lobby Eurofer, which usually launches such complaints, declined to comment. Authorities in Vietnam did not respond to requests for comment while China's Commerce Ministry said it had not been informed of the U.S. or OLAF case.
After duties were imposed in 2016, U.S. imports of cold-rolled and corrosion-resistant steel from China almost ceased, falling to just over 45,000 tons from 1.2 million in 2015, according to the International Steel Statistics Bureau (ISSB).
Over the same period, U.S. imports of the two products from Vietnam surged ten-fold to nearly 700,000 tons.
In the EU, Chinese imports of corrosion-resistant steel, which nearly doubled last year, steadied in the year to August just as imports from Vietnam surged from historically negligible levels.
The EU imposed provisional duties on Chinese corrosion-resistant steel in August this year.
Vietnam, the world's sixth-largest steel importer, has slapped a variety of duties on Chinese steel in recent years, as it ramps up efforts to build a local steel industry and tackle its steel trade deficit with China.
Steelmaking capacity in Vietnam nearly doubled last year to 21.15 million tons, according to the Organization for Economic Cooperation and Development. That nearly matched demand, which the Vietnamese Steel Association estimates at 22.3 million tons.
China accounts for some 60 percent of Vietnam's steel exports and more than a fifth of global steel exports, but with a persistent glut in steel, as well as in aluminum, there is little need for what Western producers say are subsidized Chinese exports of the metal.
"Another fast-developing steel market investing in internal capacity and erecting trade barriers cannot be a long-term benefit for the global industry," the ISSB said in a note on Vietnam.
The EU is the world's largest steel importer, followed by the United States.
South Korea scores partial win in WTO ruling on U.S. steel pipe duties
Wednesday, Nov 15, 2017
South Korea won a partial victory on Tuesday when a World Trade Organization panel ruled on its legal challenge to U.S. anti-dumping duties on steel pipe used in the oil industry, but Seoul lost most of the arguments it had made.
The WTO dispute panel faulted the U.S. Department of Commerce for the way it calculated the tariffs applied to the South Korean pipes, known as oil country tubular goods (OCTG).
Either side can appeal the ruling within 60 days, but otherwise the United States will be expected to lift its anti-dumping measures, which would increase South Korean exports, South Korea's Trade Ministry said in a statement.
"We also expect the ruling to play a role in countering U.S. trade protectionism as the panel ruling found the U.S. anti-dumping actions were illegal," it said.
Seoul went to the WTO three years ago after the U.S. International Trade Commission ruled that OCTG imported from South Korea, India, Taiwan, Turkey, Ukraine and Vietnam would be subject to anti-dumping duties.
South Korea's OCTG exports to the United States were worth $818 million in 2013, more than the combined imports of the other countries involved in the case.
Steel pipes are high-margin products used in the energy sector and had been a bright spot in the sluggish steel industry, at the time, benefiting from a boom in the U.S. shale oil and gas industry.